Jurnal Kesehatan Prima
Vol 16, No 2 (2022): AUGUST
Announcements
No announcements have been published.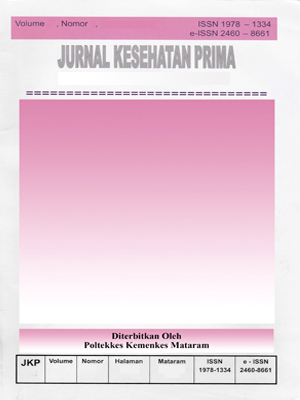 Jurnal Kesehatan Prima is one of the journals which concerns on the health field. It was published in 2007 by Poltekkes Kemenkes Mataram. Jurnal Kesehatan Prima adopts double-blind peer review policy and concerns on various health fields, for instance:
NURSING (

Fundamentals of Nursing, Management in Nursing, Medical-surgical Nursing, Critical Care Nursing, Emergency, and Trauma Nursing, Oncology Nursing, Community Health Nursing, Occupational Health Nursing, Mental Health Nursing, Holistic Nursing, Geriatric Nursing, Family Nursing, Maternity Nursing, Women's Health Nursing, Pediatric Nursing, Education in Nursing, Nursing Policies, Legal Nursing, Advanced Practice Nursing, 

and 

Nursing Informatics) 

MIDWIFERY  (Pregnancy, Birth and maternity care for childbearing women, Their babies, And families, C

linical, Psycho-social, Sociological, Midwifery education, Organizational and Technological areas of practice in preconception, Maternal and infant care, Maternity services, and Other health systems)

NUTRITION (Community Nutrition, Clinical Nutrition, Nutrition Institutions, Food Technology Nutrition)
MEDICAL LAB TECHNOLOGY (Food and beverage analysis, Microbiology, Hematology, Clinical chemistry, Parasitology, Immunoserology)
PUBLIC HEALTH (Epidemiology, P

reventing disease, Prolonging life, and improving the health of entire populations, Health Management, Health Promotion)
Jurnal Kesehatan Prima is available online since 2018, Jurnal Kesehatan Prima indexed by Google Scholar, Garuda, Crossref, Dimensions, and has been accredited with The Ministry of Research, Technology and Higher Education of the Republic of Indonesia number SINTA 3 with SK Number: 30/E/KPT/2019 start Volume 13 No 1. 
Due to our milestone for  Jurnal Kesehatan Prima, beginning in February 2020, all articles submitted to Jurnal Kesehatan Prima should be in English. If your materials are still in Indonesian. Please do not hesitate to contact us.